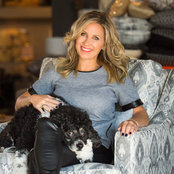 Beyond Beige Interior Design Inc.
A commenté : Walpaper?
Hi, Its called Kaleidoscope by Joanne Fabrics It comes in a variety of colours https://www.jffabrics.com/products/1526_98/
A commenté : Is the wall real brick or wall paper?
Hi, We installed brick veneer over the drywall, then had a muralist come in and reproduce a historic advertisement that was once on a building in the neighbourhood.
A commenté : What is the name of this light?
Hi, It's a Thermasol Serenity system with full spectrum lights and music You can find something like it here: https://www.thermasol.com/products/accessories/serenity-light-sound-rain-head
A commenté : Who made the vanity?
Hi, Its a horizontal grain teak done by best builders - the counter top is caesarstone