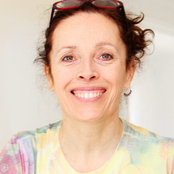 Marie-Pierre Ayoul Decorative painting
A commenté : prix au pied carrer
Bonjour M. Dubois Merci de votre intérêt, voici comment je fonctionne en général: D'abord je rencontre les clients qui ont un projet (ex: une salle de bains dont les murs ont besoin d'un fini décor...
A commenté : Wax finishing
Thank you :). I just applied the wax with a stiff paintbrush and buffed it with a dark rag (white rags were leaving white fluff stuck on the wax). But I think it's a given that the wax will not look...
A commenté : How to incorporate a bright colored area rug
Beautiful rug! I think that in order for the room to feel bohemian you need to add whimsical stuff, some original art possibly, and if you feel up to it, paint the walls a daring colour such as one of...