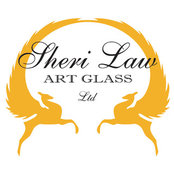 Sheri Law Art Glass
A commenté : Fireplace mantel color
I would consider granite or a hard surface material - in black to bring up the color of the fireplace and set it off. Maybe find one that has a mix of gray. Let it make a statement. It doesn't lo...
A commenté : Help me decorate this half bath please!!
Here is an idea to keep allot of light in the room and not close it off with a shade. Stained Glass can be installed on top of your existing window, and offere beauty and privacy. http://www.sherila...
A commenté : TV over fireplace?
I put an edgelit shelf across the entire front. Plenty of space for the TV on the right, FIreplace and artwork on the left.