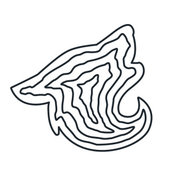 Timber Wolff Designs Inc.
A commenté : Doors
Kirk Woodworking is a company out of Calgary Alberta, Canada. Most door suppliers can provide this type of door. You'll require a glass company to provide the mirrors and a painter to spray the doors ...
A commenté : Love the island lights!!
Thanks for the Compliment. I don't have the model number but I believe they came from Cartwright Lighting. Might be worth showing the picture to some of the salespeople.
A commenté : I like the fireplace feature. what kind of tile ?
I don't have any info on the manufacturer for the tiles. The depth of the cabinets was based on the fireplace depth. The client wanted the fireplace to extend beyond the cabinets. It was around 20&q...
A commenté : Question about paint color.
I had a look back through the project file and couldn't determine what was used. If you email Timber Wolff Designs I can send the original photo. Hopefully that would help. Thanks