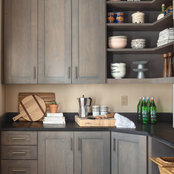 Green Mountain Construction
A commenté : Paint color
I apologize, but I don't know the color and cannot find it in our records. This house was built before I started working with Green Mountain Construction.
A commenté : Stone used for Island and perimeter counters
This is soapstone and we just recently installed honed virginia mist in a newer project. Soapstone is much softer, will scratch and hold onto oil spots, but I am not sure about water spots. I recomm...
A commenté : Storage/space saver
Unfortunately, I am unsure of this answer. I believe the homeowners found this on their own and it was a few years ago. I apologize for the delay in reply.
A commenté : cabinet color and finish
I am so sorry for the delay in getting back to you. I am unsure of this color as it was before my time at GMC and we do not have record of it.
A commenté : What brand of tile is this?
I do not believe it is available anymore… the only info I have is that they are Bati Pebbles. Thanks!