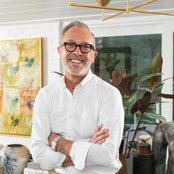 Nathan Taylor for Obelisk Home
A commenté : Love the vases and orchids!
Thank you! The vases are made from selenite by Nate Ricketts, and the orchids are from Allstate Floral.
A commenté : teal island color please?
Hello! It is a great color, isn't it! This was a custom color that we created inspired by the tile and a leather by Lillian August. Thanks.
A commenté : ceiling height question
Hello! The ceiling height is 7.5 feet from the floor to the floor joists, with some pipe running just below that. Thanks!
A commenté : Love The Rug!
Hello, fellow Missourian! That beautiful rug is from Nourison!