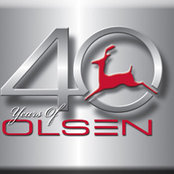 Olsen Pavingstone, Inc.
A commenté : What is the color name of this driveway? Thanks.
@glorialchang We call this layout Random C/VI. There is no actual repeating pattern here, but, rather, a collection of six sizes in varying ratios. If you'd like to contact our office at (949) 728-041...
A commenté : I like this stone
Love how the Olsen KIngdom Cobble Villa in Sandstone compliments the gold tones of the Sparkstone California Gold ledger stone!